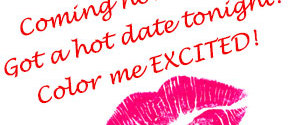 A relationship is a growing living unit. It is constantly evolving and adjusting to the people in it even if the subtle daily changes go unnoticed- as they often do. What we look at the relationship changing is often largely the individuals in the relationship having changed. We grow in change every day, but over the years these subtle unnoticeable changes culminate into major differences. The needs of the individuals in the relationship evolve as they grow from where each of them were at the time that they met to who they are in the present and will be in the future. This is why it is so important for couples to continue to stay in touch with each other- so that as they grow they are growing together.
You have to keep the romance. Keep the spice in the relationship. As couples get into the comfort of everyday life it's easier for that romantic feeling to be set aside. While the comfort of the relationship is nice, the need to feel that excitement and affection that is experienced in the earlier days is still there. Individuals who are not in long term relationships can experience that elevated high each time they meet a new person, but a person in a long term relationship does not have the excitement of the first dates and first kisses to look forward to. Their highs (and lows) are more level and steady, which makes it more important that there is constant infusion of these higher points. Doing so also helps with reducing the need to look for this elsewhere.
Dating your spouse (future spouse, significant other, whatever you call eachother)  is important at every stage of the relationship. At the beginning you are dating and getting to know and falling for each other. Every year as you each grow you still need to do this to stay on that same trajectory. By the time you have been together for a good while (7-10 years) you have two people who are significantly different from the two who met, making it critical at this time that you really focus on knowing and loving each other as your new selves. When kids enter the picture it becomes easier couples to drift apart while seaming connected as the children become the rubber band that is keeping them connected as they drift. This is one reason that so many couples find themselves separating in their empty-nesting stage.
1. Be deliberate about it.
Date nights keep things exciting, especially after children enter the picture. Many couples find themselves in situations where it's always about the kids or something to do with t hem. Date night gives them an opportunity to intentionally leave the children out. When this is not planned and things come up the couple gets set aside. When it is planned, arrange for all the things that can come up to make sure you have that time for and with each other. While date night can culminate with sex, because it is often more difficult to set a time to really go out on a date I recommend that couples set intimacy schedule as well, which will likely be more frequent than actual date nights. It's great for busy couples who often find themselves too tired by the end of the day. Whether a couple is doing well or they are experiencing relationship issues I still recommend it as part of setting aside time for each other. Since people respond more effectively to things that are in writing, be sure to add these to your calendar. So having couple time on the calendar ensures that it is added to the priority list and gets taken care of. Ideally the couple would determine how many times they want to intimate, and identify the ideal days and times to make this happen. In addition to scheduling it in their calendar, they will also be doing things throughout the day that will make that portion of the day better. Couples who have done this have noticed that they make more efforts to nurture their relationship. Couples who have done this have found that their partners dress sexier, are more affectionate, and do more cozy little things on intimacy days. In a way, they are setting the mood and end up making the day itself a form of foreplay. Couples have that to look forward to together, as opposed to one person hoping that tonight will be the night and then falling asleep disappointed. It should not kill the romance because the goal is to increase the romance. Couples can do things throughout the day that build up the romance. Even when there is a schedule in place, moments of spontaneity should not be ignored. Just because you have scheduled 2 intimacy nights a week, if an opportunity presents on a different afternoon, you can still take advantage of that. If the kids are out and the moment feels right- go for it! That can be a bonus, but not a replacement of one of the scheduled days.
2. Plan Your Dates & Prioritize Your Dates
Whether you plan them together or take turns planning for each other, make sure you plan activities for your dates. Having a plan prevents lull and confusion that could come up when you set the time and don't know what to do with it. Plan things that are fun and new. Thing such as ice skating in a park, a gallery opening or even backyard camping for a night. Your dates don't need to be things that are costly- you can plan simple and free things that you will enjoy. A day at the beach, evening in the park- anything will work as long as you both enjoy it. You can also look at your community calendars for ideas and events that are going on nearby that you can partake in.
Planning also helps keep your date a priority. Many couples schedule dates but still allow life to get in the way. Once a date is scheduled, add it to your calendar just like you do all other important appointments. Mark the time unavailable just as you would if it was a meeting with your boss or your biggest client. Scheduled dates should only be missed in case of a true emergency- Like Johnny's in the hospital- not Johnny got a booboo. When a scheduled date has to be missed, it should be rescheduled right away. Treat the time and commitment to your relationship with the same high level of importance that is placed on your most important career or other responsibilities.
 3. Be Fully present
When you are on a date, it's important that you leave the kids behind mentally as well. That means that they should not be all that is talked about. This is a time to focus on each other and your relationship. Issues involving the kids should be addressed when you are at home. Set aside time to have those discussions and come up with solutions. Where there are differences, I recommend not taking the conversation to the bedroom so as to not bring tension into that sacred space. You can still talk after the children go to bed- just pick a different part of the home.
Set phones and other gadgets aside. If you have children at home you can set a signal that will let you know that there is an emergency (ie: call 2 times back to back) that way if you hear your phone vibrating you don't have to check it every time. Be sure to clarify what constitutes an emergency such as after you call 911, and discourage the constant calling for things that can wait until you get home.
4. Appreciate & Express It
When you enter a relationship and get comfortable, people have a tendency to switch to expectation mode, where you may see some of the things that your spouse does as part of the deal. You may say thank you, but you don't make as big a deal about it anymore because it's part of their duties. Go back to that time at the beginning when you called your new sweetie the next day to thank them for how good last night was.
Don't just say the rote "I love you". Take care to notice and pay specific compliments. Remember how you responded when she opened the door when you picked her up for a date? Or maybe the way you looked at him when he took his shirt off? You need to remind your partner that you still see and feel some of these things- even if there are a few more curves or bulges which can make that need even greater.
5. Court and Flirt
Do the things that say "I think you're hot". Remember way back when men and women used to take time to write loving letters to each other. As long as the mail system still works those little things are still grate options. Send a love letter to your mate and just hide in a corner to see the facial expressions that come as your letter is read. It's worth much more than the 49₵ stamp- It's priceless. Pick a flower outside or pick up a card while at the store. These little things go a long way. Take time to flirt. Your spouse has no more first dates or first kisses to look forward to, but you can give a little taste of it. Now there are other options that can add to playful flirtation with your mate. E-mails that pop up on the phone in the middle of the day. Flirtext, a cleaner version of sexting where you can talk about some "grown folk stuff" but not so racy that if your phone got lost you'd be panicking. Rated PG to maybe even a little R but this should ONLY be ON PERSONAL PHONES. DO NOT SEND THESE MESSAGES TO COMPANY ISSUED PHONES.
Spontaneous moments like an unexpected lunch date or meeting up after work to ride home together are also nice. The key maintaining lasting relationships is to treat your life together as though you are looking you have your spouse to say yes again.